Moving to Orlando in 2020
Posted by Tiffany Pantozzi on Friday, May 8, 2020 at 8:40 AM
By Tiffany Pantozzi / May 8, 2020
Comment

Moving to Orlando? Here's Everything You Need to Know!
Have you ever considered moving to Orlando? If that's the case, you've come to the right place.
Every so often, we all daydream about moving to someplace warm and sunny. Somewhere where winter doesn't stick around, and we can spend sunny afternoons wandering around shopping centers, or hiking along beautiful trails. If you're dreaming of moving to a wonderland like this, you should consider moving to Orlando.
Orlando is a city of wonders, offering everything from the magic of Disney World, to the natural beauty of lakes and hiking trails. You can find museums and theaters, restaurants, and locally-owned shops. Read on to learn everything you need to know about this beautiful city before you decide to call it home.
You'll Get Afternoon Thunderstorms
One of the first things you'll discover after moving to Orlando, Florida, is that summer afternoon thunderstorms aren't just a romantic piece of Southern fiction. In June and July, these storms hit just about every afternoon. If you have a dog who's scared of thunder, you may want to invest in a thunder shirt for them.
These tempests will usually pop up around three in the afternoon during the summer months. They only last about an hour or so – long enough to get everything damp and blow off some of the afternoon heat. Things will clear up in plenty of time, for an evening out on the patio and a spectacular sunset.
There's Great Public Transport
Depending on where you're moving from, getting around Orlando may be a different driving experience than you've ever seen. Highways can be confusingly labeled (just remember east is north and west is south), and the city isn't very walkable. But luckily, Orlando has wonderful public transportation.
In 2014, SunRail came to Orlando and made getting around the city much easier. This light rail runs from DeBary on the north end of the city, to Sand Lake Road on the south end. There are also Lynx buses that operate throughout the city, making it a cinch to get where you need to go.
There's an Amazing Food Scene
When you're moving to a new city, one of the first considerations is what the food scene is like. Everyone wants to be able to go out for a nice dinner or find a great hole-in-the-wall place to grab a bite. Orlando has a food culture that'll scratch every culinary itch you have.
If you're looking for unique options, Orlando has great restaurants ranging from the casual Smiling Bison to more upscale options like Luma on Park. If you're looking for something familiar, the area has some of the finest Olive Gardens and Seasons 52 in the country. And, many of these chains use the Orlando tourist corridor to test out new offerings, so you'll never be bored.
Orlando Is Going Green
No matter where you live or work these days, you're probably hearing a lot about efforts to go green. Companies are working to reduce their carbon footprints, and homeowners are installing solar panels on their roofs. We're all working to make sure this planet is still around for our grandchildren to enjoy.
Orlando is leading the charge on green efforts in many ways. The city recently built the nation's first LEED-certified NBA arena, and they've added hybrid garbage trucks to their fleet. They've also launched a huge tree-planting initiative and green-retrofitted hundreds of houses around the city.
There are Lots of Sports Teams
Everyone loves having a local sports team to cheer on, and Orlando has plenty of those. On the professional end, the Orlando City Soccer Club has a growing Major League Soccer stadium. The Orlando Magic works wonders on the basketball court, and the Solar Bears battle it out on the ice at the downtown Amway Center.
But in many ways, college sports take precedence around Orlando. The Gators and Seminoles have a legendary football rivalry, and the UCF Knights battle it out on the gridiron at Spectrum Stadium. You can also enjoy college baseball, softball, volleyball, golf, and more thanks to the abundance of local university teams.
There Are Great Culture Options
If you're looking for someplace with great cultural offerings, it's hard to beat Orlando. The Orlando Philharmonic Orchestra puts on a wide variety of performances ranging from an opera series to Bach symphonies. The city also boasts its own ballet company, the Orlando Ballet.
There are a variety of museums to keep your family educated and entertained. The Charles Hosmer Morse Museum of American Art hosts a large Tiffany exhibit, as well as many other stunning pieces. There are also a number of other museums scattered around the city.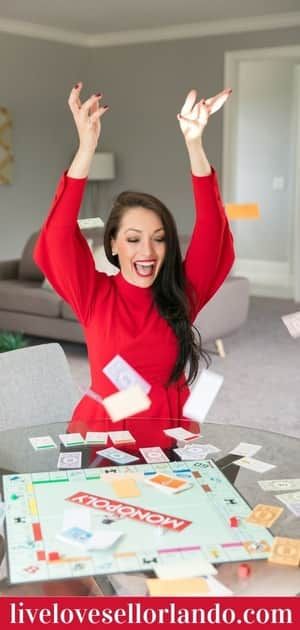 You Can Get Back to Nature
Maybe you're the sort who enjoys spending a Saturday getting lost on a trail or having a picnic in a park. If so, Orlando has amazing opportunities for you to dive into nature. To begin with, the city hosts a variety of natural springs and manatee hangout spots that you can enjoy.
You can also go on an eco-safari of Orlando, or zipline across preserved land at Forever Florida. There are bike trails, canoe, and airboat rentals, as well as pontoon tours around local lake chains. You can ride horses or hike through parts of the Florida Trail.
Enjoy Theme Parks for Less
Of course, one of the major draws of Orlando is the theme parks. Walt Disney World, Universal Orlando, and SeaWorld Orlando all call this city home. But normally, tickets to the theme parks cost more than $100 per person per day.
Luckily, as a resident of Orlando, you'll be able to access tickets to the theme parks for much lower rates. You can get a three-day Discover Disney pass for just $175 as a Florida resident. You can also get annual passes for as low as $26 a month after a down payment that'll give you access to the parks any time you like.
People Are Friendly
You might be surprised to learn that being able to go to Disney whenever you'd isn't the only perk of living near the theme parks. The employees who spend their days enchanting children at Disney World live in the Orlando community too. The kind of positivity and politeness you find in the parks radiates out into the rest of the city.
You might find people smiling at you as you pass them in grocery store aisles. If you find yourself on the side of the road changing a flat tire, don't be surprised if someone pulls over to give you a helping hand. You can count on people around you to be friendly and helpful, no matter whether you need an extra dime to pay for your coffee, or just a kindly wave in the neighborhood.
Everything's Bigger in Orlando
In many ways, Orlando is a small town. Before the Disney parks moved here, Orlando was a cow town with a few orange groves. And while the city has retained some of the small-town cultures, today, it's filled with a lot of "bigs."
Disney World is Orlando's biggest of the bigs, employing thousands of the city's residents. Tupperware and Lockheed Martin both have corporate headquarters located in Orlando. And, several of the city's megachurches have more than 10,000 members, and campuses as large as 130 acres.
The Ground Is a Little Different
If you plan to start a garden when you move into Orlando, you may want to plan on building raised beds. The soil around Orlando is more sand than dirt, which makes it hard to grow much other than orange trees. But, thanks to the tropical weather, flowers and vegetables planted in raised beds will enjoy long growing seasons and very mild winters.
There's No State Income Tax
One of the major perks of moving to Florida is the change you'll discover in your taxes. Thanks to their large hotel industry and, of course, the theme parks, Florida doesn't have an individual state income tax. This can save you a lot of money, depending on where you're moving from.
Other taxes around Florida also tend to be lower than rates around the country. Property taxes average around 0.97 percent, and sales tax in Florida is around 7 percent. This extra money not devoted to taxes can help offset the slightly higher costs of living associated with the area.
You Can Find Quaint Housing
Many people may have the idea that because Orlando is a fairly major city, the housing options include condos and high-rise apartments. But, not only can you find gorgeous single-family homes here, you can even find quaint little houses. You can enjoy all the advantages of living in a city while spending your days on leafy streets lined with eccentric houses.
There are a number of smaller communities in Orlando that can provide you with the small-town culture you're looking for. Among the best of these are Windermere, Winter Park, and Winter Garden.
Disney Golden Oak
Located within The Walt Disney World Resort®, Disney's Golden Oak offers world class amenities including Summerhouse a residents-only private clubhouse where you will find Markham's Restaurant, Tyler's Lounge, a fitness center, family room with a game area, fire pit, and a private community pool.
Central Florida's Only Five Diamond Resort, the Four Season Resort Orlando at Walt Disney World is also located at Golden Oak. There's a five-acre water park, fitness classes, an adults-only pool, fitness classes, six restaurants, comprehensive spa with indoor and outdoor relaxation areas, and Tranquilo Golf Course.
Windermere
Windermere is one of Orlando's more upscale communities surrounded by the Butler Chain of Lakes. The community is home to around 3,000 people, most of whom own homes. In 2020, Windermere was ranked as one of the best suburbs to live in Florida by niche.com. Our team specializes in Windermere guard gated communities and surrounding world-class golf course homes at Windermere golf courses Keenes Point, Isleworth, and Windermere Club. The average home price is just under $1.3M with luxury homes priced between $2M-$25M.
Winter Park
Founded in 1870, the name Winter Park comes from the affluent in the north coming to escape the snow. Winter Park is something of a college town about twenty minutes northeast of Orlando's city center. The community is home to Rollins College, Florida's first four-year university, and you get a lot of the resulting college charm living in Winter Park. The heart of Winter Park is Park Avenue, a tree-lined cobblestone street lined with amazing restaurants, museums, and shopping.
The Winter Park Chain of Lakes offers residents boating and fishing and other aquatic activities. Winter Park has a population of a little more than 30,000 people. There are amazing opportunities for shopping and culture, as well as outdoor recreation. The average home price is just over $800,000 with luxury homes priced between $2M-$7M.
Winter Garden
Winter Garden is one of the larger suburbs of Orlando, with a population of about 42,000. Many families and young professionals live in the area, and the public schools there are excellent. The community was ranked highly on a list of most diverse suburbs in Florida and is the first Orlando suburb on this list. The average home price is just over $400,000 with luxury homes priced between $2M-$8M.
Learn More About Moving to Orlando Florida
Orlando is an amazing city that contains both the amenities of a large city and the charm of a small town. It's filled with residents who spend their days making the dreams of children come true, and some of that magic carries over into the community.
Whether you like to hike or boat, catch a play, cheer on a football team, visit a museum, or find a new favorite restaurant, Orlando has amazing delights for you to discover.
If you're considering moving to Orlando, get in touch with our team at Side Real Estate Orlando. We have Orlando properties to meet every wish list, amenities desired, and budget needs. Check out our featured listings and find your new home in America's favorite vacation destination today.